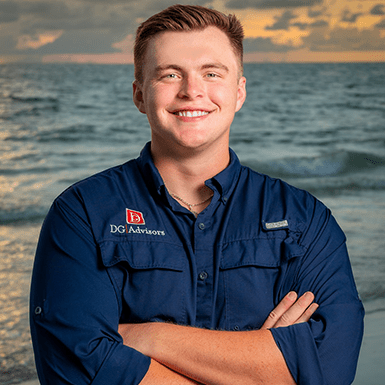 Agent | Life & Health Licensed
Originally from Peachtree City, GA, Dakota moved to Florida three years ago with his immediate family. No wife or kids yet, but Dakota has a temperamental wiener dog named, Oscar, with which he has a love/ hate relationship.
Having a natural proclivity to helping others, Dakota gravitated towards the financial service industry after listening to his brother talk about what he was doing and learning at DG Advisors. It fascinated him. Having played college baseball as a catcher, Dakota was used to surveying the field, anticipating what might happen, and then making the best play. He draws similarities to the work as an Insurance Agent for the firm, by surveying each client's situation and goals and then uses experiences, trends and tax efficient strategies to help anticipate different scenarios. He then helps clients choose their next course of action to work towards their goals.
"As a catcher you have to have your eyes on lots of moving pieces during the game and I recognize that as an insurance agent you have to have your eyes on all the components (tax, law, finance) that affect someone's financial strategy in order to be comprehensive."
Dakota appreciates that there is more than one path to get where you need to go and was drawn to DG Advisors because of the importance they place on thinking outside of the box to create multiple paths for the client.
"I love that DG Advisors does not look at a financial plan as a one and done transaction, but a long-term dialogue that anticipates and can make room for changes. Life doesn't always go the way we planned. It can be better, worse, or just different – but your financial plan needs to be able to make allowances for change. That's impossible to do without a relationship with an advisor who can look for ways to creatively address change; who can think outside the box."
Dakota is committed to gathering all the right information for clients to help meet their goals and most informed decision possible, all while having a little fun in the process.
Insurance products are offered through the insurance business Divinity Financial Services Group. Divinity Financial Services Group is also an Investment Advisory practice that offers products and services through AE Wealth Management, LLC (AEWM), a Registered Investment Adviser. AEWM does not offer insurance products. The insurance products offered by Divinity Financial Services Group are not subject to Investment Advisor requirements.